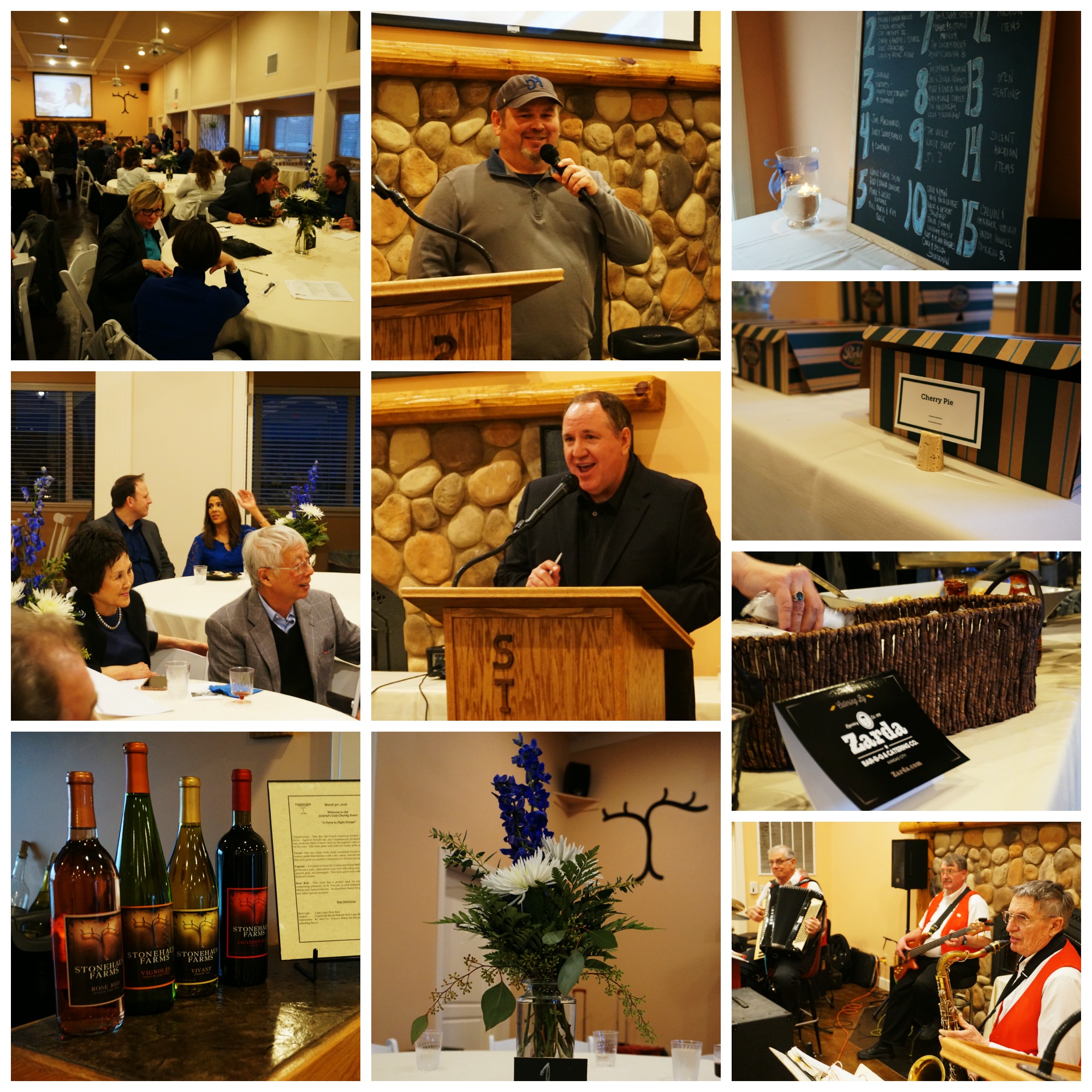 Events
Gabriel's Gale: A Force to Fight Pompe
First Annual Fundraiser: March 31, 2018
It's Monday afternoon, the second day of April. There's snow on the ground and – another anomaly – I have a quiet house and quiet mind.
Our hearts are filled with humility and gratitude for all of you – who, through kind wishes, words, thoughts, donations and attendance, helped make our first fundraiser for Gabriel's Gale a success beyond anything we could have imagined.
Cody and I had one goal going into Saturday night:
Don't mess up.
Thanks to so many, we met that goal and – we're still counting the money raised for Pompe Disease – believe we exceeded our financial ($10K) goal.
I called in every favor I was not owed. Without the kindness, generosity of the following, we could not be the force fighting Pompe that we are now.
Thank you:
Zarda BBQ for providing our meal
Stonehaus Farms Winery for providing our beautiful venue
HyVee off Ward in Lee's Summit for providing our centerpieces
Comedian Bryce Stanley for providing our comic relief
Emcee & the night's Captain Kris Ketz for being our friend, emcee and so much more
Perkins in Lee's Summit for the amazing pies
Gary Baker (Baker Image Group) for making our Gabriel's Gale logo
Turn The Page Marketing (Amy Driver and Emily McIntyre) for building our website
The Willie Kirst Band for filling the room with music
The Shadow Buddies Foundation founder and Rock Star Mom and Human Marty Postlethwait for telling me what to do and that it would be OK (so many times, even the times you didn't know I needed a text or call or note!)
Heather Bokelkamp for being my rock since college and our Event Planner
Talia Cohen for being my rock since… well… she got out of college
Volunteers Calvin & Heather Waugh and Kathy Howell
And, all of the companies and individuals who donated to our Silent Auction (We had amazing items from a handmade baby quilt to DeWalt Drills, signed Chiefs footballs, spa days, restaurant gift cards and tickets to see Bonnie Raitt and James Taylor and Maroon 5 at Sprint Center!)
This stranger, Pompe Disease, entered our lives without invitation, warning or permission. It is with us every day. But, we have learned we are not alone in fighting it. We are empowered by the strength of other Pompe Families like Sarah Musgrove and John Leuken (whose son Bruce is a Pompe Warrior and who is expecting a baby girl this summer who has Infantile Pompe,) our doctors, family and YOU.
Pompe affects the muscles, especially those powering the heart. Is it ironic that, because of this intruder, our valves are bruised-but-not-broken, fuller and stronger?
Thank you from the bottom of our hearts.
Cody & Donna
Gabriel's Daddy & Mama
Please stay tuned for information about our next event:


March 30, 2019 ! 

 
Sponsors