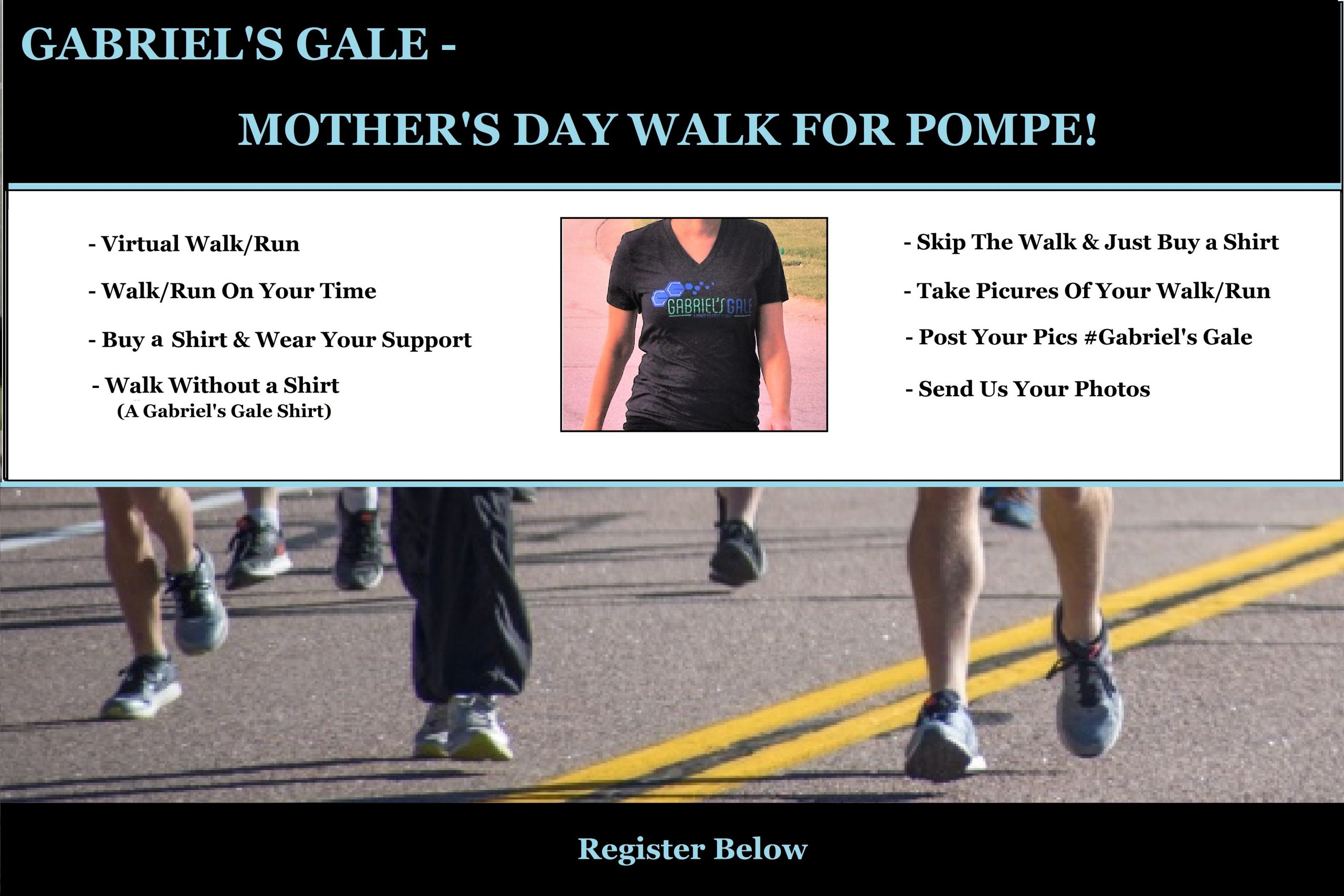 MOTHER'S DAY WALK FOR POMPE!
FUNDRAISER
FRIDAY, MAY 7TH – SUNDAY, MAY 16TH, 2021
Who advocates like a Mother? No one! In honor of Moms and especially those living with Pompe Disease either themselves or by raising children with this rare genetic disorder, we invite you to hit the pavement and walk or run a 5K (3 miles and some change) to raise money for Gabriel's Gale.
How it works:
* Sign up for the walk at GabrielsGale.org
* Choose any time between Friday, May 7th and Sunday, May 16th to get out of the house and go for a walk or run!
* You may purchase a Gabriel's Gale shirt for $29.99 (on top of the 5K fee) if you'd like to wear your support! (You can do this only and skip the walking and running part!) Please have T-Shirt orders submitted by May 1st.
* We'd LOVE to see a photo or video of your journey! You can send those to codyanddonna@gabrielsgale.org or post them in the comments section of our Gabriel's Gale Facebook page and/or tag us on Instagram (@gabriels_gale) using the hashtags:
#GGGiveback
#gabrielsgale
#pompestrong
While it is still unsafe to gather, we figure this is a perfect way to continue our mission to enrich the lives of those living with Pompe as well as include those of you who support us outside of the Kansas City area.
Now, let's lace up and kick Pompe where it hurts!
Gabriel's Gale
Walk Registration: $25.00 each
Buy a shirt  $29.99 each
NOTE: If you don't use Pay Pal, please register by sending a check to the following:  Gabriel's Gale Registration, 705 B SE Melody Lane#134, Lees Summit, MO 64063.
Sponsors