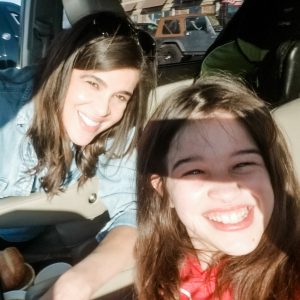 (Eila during our Parking Lot Picnic today!)

If I'm Honest
I've always said if I had the time and temerity to write a blog it would be called "If I'm Honest." Tonight, in the borrowed hours of Rare Disease Day 2021, that title seems like the perfect marriage between the calendar and circumstance. 
If I'm honest, I'd chosen not to write anything today. In the four-plus years since our newborn son was diagnosed with Pompe Disease, I've always written something about the importance of recognizing those who live Rare every day. I've written about the importance of raising money for research and a glass for perseverance. 
This year, with no words for a toast materializing, I chose to just be in the moment and enjoy my children. For the first time in the years since we've been a Rare Family, I didn't know what to write. Putting the great before the grit wasn't possible.
Last week, on one of the many Pompe Facebook groups to which I belong, someone asked the question: "What if we don't always feel Pompe Strong?" It hit me like the mirror in the morning. Someone actually wrote – out loud – what I was feeling! 
We'd recently noticed a health issue with Gabriel that we were afraid (read "convinced") was related to this devil disease. For the first time, I titled my note in the patient portal "URGENT – GABRIEL." It turns out, thankfully, it is something easily treatable and common. Six days, though, of not breathing. Not breathing in the way we used to breathe.
To be honest, those six days of breath-holding are just part of the past four and a half years that hold countless days. The water is always there. The only variant is how high it is and how deep we are. Or, feel we are. 
To be honest, when our daughter was diagnosed with Pompe in early 2020, I felt angry. I'd do anything and everything to carry this weight for them both. I felt somehow in control – as though I'd been gracious – the first time in accepting my child would live with Pompe. But, the second time? Another child? I had a very "Fool me twice? Hold my lidded wine cup!" response. 
Now, a year later, I don't feel angry. I still feel determined. I often feel defeated, sad and then ashamed for feeling sad when we have so much hope for so many good reasons. 
Last fall, we took Eila and Gabriel to the lead doctor in Pompe research at Duke University, Dr. Priya Kishnani. When Doctor Kishnani told us neither needed Enzyme Replacement Therapy just yet, we had air in our lungs for the first time in months. I elated in our reprieve only for a little while. That same week, a child in the Pompe community lost her fight. It didn't feel fair to breathe easy. 
This morning, I read a Facebook post byJohn Crowley, a leader in the life saving treatment of Pompe. He wrote that he'd planned to post a photo of his children who are living with this disease. But, he learned another Pompe warrior just lost the fight. So, he wrote about her. Rosella. 21 years old. 
To be honest, this is it. This is the reality of raising children with a rare disease. So many parents prescribe us to enjoy every moment. They go by too fast. We do. But, we also enjoy those moments with a tinge of fear the petal may be pushed to the floor. 
I am writing this tonight, because I am proud of my children. I am so incredibly grateful for them. I am so determined to recognize them and all of those living with a rare disease. 
In my attempt to just be present, today Eila and I escaped to the giant antiques mall we love. She wore her boots instead of her sneakers. The tennis shoes have the inserts in them made especially for her. Halfway through the mall, she told me her legs were hurting. We found a bench. I rubbed her legs. When we were in line to check out with our haul, she asked me, "Mama, am I going to need a wheelchair someday?" I was honest with her. Maybe. We just don't know. 
What we do know: Gabriel has a million funny faces he shares with us daily. He is beginning to read. Every time he reaches a new word to sound out, I hold my breath. Eila is an incredible and kind kid with a talent for art and writing that I love seeing grow. I hold my breath for that. I hold my breath for the times their seven year-old brother says and does super inappropriate but secretly hilarious things to absorb the spotlight and make us all laugh. 
To be honest, I cannot imagine anything else and know – even in those moments of balloon cheeks and Ringo-on-the-drums heart beats – we are so blessed. We are so humbled. We are so aware. We may be wary. We may be Rare. But, we are Pompe Strong. 
Donna